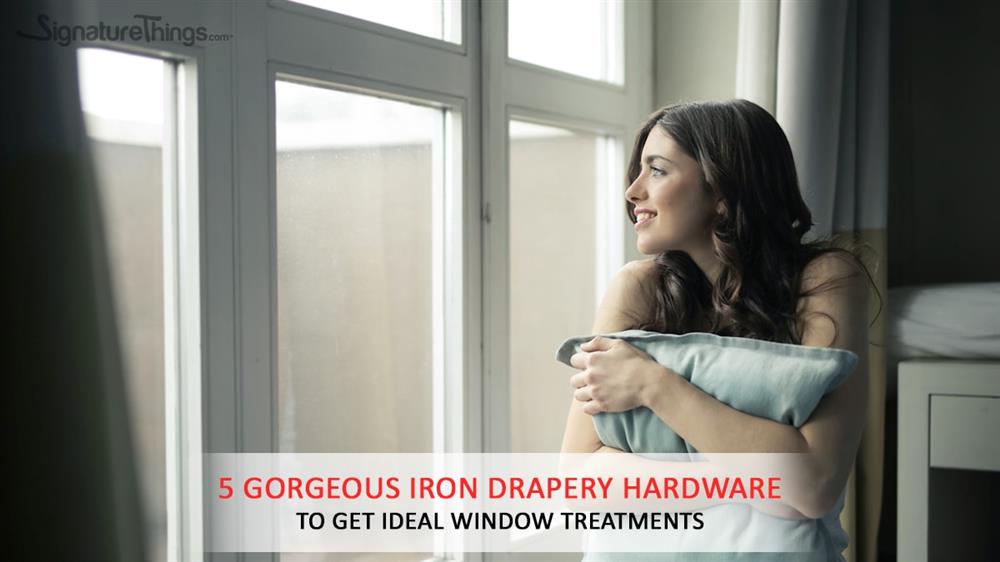 Natural, Antique, Black, Aged, Cast, Rustic and Wrought Iron are all terms used to describe iron finish variations used by manufacturers today. Each term denotes a color or shade which can vary from one manufacturer to another.
Iron is another popular and versatile metal used for drapery hardware. Signaturethings offers hardware products both made out of Iron or those that are finished to create the Iron and rustic looks.
Getting the right finish for your curtain hardware can make the big difference between a good and a great space. The right hardware finish balance other design choices in your bedroom or living room, For example, you can match your decor to your hardware finish to create a sophisticated, synchronized look.
Appearance
Our Iron Drapery hardware ideas should not only support your drapes but also add a touch of elegance to their design. Whether you are looking for a subtle piece for a classic look or a more detailed flourish, we can craft the perfect finishing touches for any room.
Iron Curtain Rod Supports Brackets

Curtain rod brackets are an essential piece to your drapery project and the right curtain rod brackets can make a big difference in the overall appearance and longevity of your display.

Our iron curtain rod brackets provide solid, great looking support for your curtain rods and are available in a variety of sizes and styles. Be sure to measure the diameter of your curtain rod, because there are brackets made for different sizes.

Iron Curtain Rings

Add finishing touch to your drapery with strong stylish iron curtain rings. Hang up your favorite curtains or sheers to create a lovely window treatment.

Each of iron curtain rings is coordinated with matching finishes to our iron drapery rods and tiebacks.
Iron Curtain Holdbacks

Add a touch of elegance to any room with this of classic curtain holdbacks designed with the crystal ball.

Use our iron curtain tie backs, also known as curtain holdbacks where curtain stacking space is limited or you want the swept back to look for your curtains. Excellent match for traditional, classical or even modern themed rooms.

This diamond crystal curtain hooks simple in design, but the crystal design is very bright, it will give your living area a sense of style that will be hard not to notice.

This sophisticated curtain tieback will subtly enhance your decor without being audacious. Being beautiful, practical, and economical, the small crystal has recently been popular for decoration.
Aged Iron, Antique Brass, Ash, Beijing, Black, Bright Silver, Bronze, Brushed Nickel, Burgundy, Chalet, Champagne, Espresso, French Blue & More.