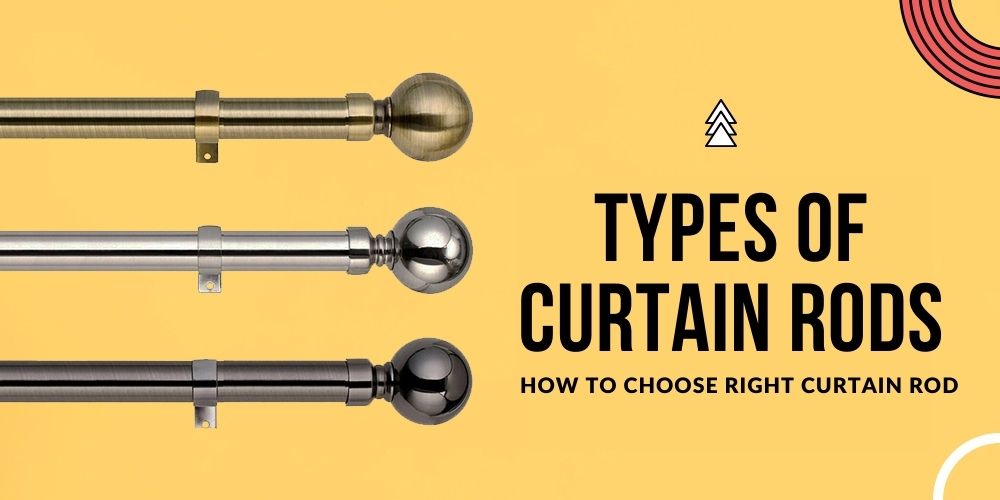 Types of Curtain Rods: How to Choose Right Curtain Rod
If you're looking for curtains, it is easy to overlook the curtain hardware that will be attached to them. You should pay attention to this aspect when choosing your window décor. When choosing curtains, it is just as important to select the right curtain rods (and finials). Throughout this guide, we'll answer all of your curtain rod questions. You'll find everything you need to know in this guide, including Types of Curtain Rod and How to Make a Right choice Also, what size to choose (no matter the length or diameter). etc. Shop curtain rod now ->

Let's get started..
Step 1: Calculate the amount of weight you need to support

Choosing the right curtain rod depends on how much weight it can support. Room Darkening Blackout curtains and thermal curtains (drapes, blackout curtains) are heavier than light-filtering and sheer curtains. For heavy curtains, consider weighing them.

How to Measure Weight of Curtain Rod Can Support?

Divide the curtain weight by the rod width to determine how much weight per foot your curtain rod will need to support. For Ex. if the curtains weight 50 pounds, and the required curtain rod width is 12 feet, the rod must hold just over 4 pounds per foot.

Step 2: Choose the curtain rod diameter

A curtain rod's diameter is its cross-sectional width, which is measured by its diameter. Most of the curtain rod diameter is typically between 1-3 inches, depending on the weight of the curtains.

For a couple of reasons, it's important to know the diameter of a curtain rod. You can determine whether the curtain's heading fits onto the rod by doing this first. Second, it will assist you to buy the best curtain rod bracket when the hardware is sold separately.

Step 3: Choose the curtain rod's width (or length)

How long should the curtain rod be? For the perfect curtain rod dimensions, measure the window for curtain rod, including the frame or trim. Take three measurements of your window: one at the top, one in the middle, and one at the bottom. Most likely, there will be a slight difference in these measurements. Choose the largest of the three widths for your window.

how to measure windows for curtain rods?

For small windows with little space on either side, choose a curtain rod as wide as the window. For larger windows, we recommend that the curtain rod extend beyond your window 5 inches on each side. By doing so, only a small fraction of your window will still be covered by curtains when they are open.

For inside mounting of curtain rods, measure the width of the windowpane if using a tension rod or another type of rod. You can measure across the inside edge of the frame on one side and along the inside edge on the other. As explained above, measure this three times. Take the smallest measurement to determine the window's width. This is also the width of your curtain rod.

The Curtain Rod should be placed on 4-6 inches above the window frame. The higher the curtain rod, the taller the window will appear, so fix your curtain rod closer to the ceiling than the top of your window, if you can.
Step 4: Choose the correct fasteners and Curtain Rod Brackets (if required)

We offer a great selection of curtain rods with all the brackets and fasteners you need. Be sure to buy curtain rod support brackets which will fit around the diameter of your curtain rod if you are buying it separately. and the recommended screw size, anchor size, and number of Screws (if you're installing the rod into drywall). Shop curtain rod brackets ->

Step 5: Select the type of curtain rod you need

If you need modern curtain rods, brass curtain rods, custom curtain rods, or extra-long curtain rod for wide window. There are many different styles and types of curtain rods like Single Curtain Rod, Double Curtain Rod, French Rod, Traverse Rod & More. It can be confusing to figure out curtain rods and the accessories that go with them.

Read below to learn more about some of the types of curtain rods from SignatureThings and hardware types like curtain rings, brackets and more.



Single Curtain Rods

These single curtain rods, which are most popular today, come with one fixed rod mounted on your window frame that winds through curtain rings, grommets or pockets of your drapers to stay in place. Generally, single curtain rods can carry light to medium weight curtains and sheers. Shop single curtain rods ->
Double Curtain Rods

A double curtain rod allows you to hang two layers of curtains. This gives a designer look to your window and helps make your window seem more spacious. It consists of two separate rods that are parallel to each other. For a more enhanced and dramatic look, use a double curtain rod to layer drapery panels or curtains. In most cases, a sheer curtain is layered first and then a regular curtain is placed on top to block out light.

French rods

French Curtain Rods have been a fashionable choice in window treatment for some time now. !!

French Return Rods have two distinct features. No finials are used, and they return to the wall. Adding these features reduce the space between the drapery panel and the end of the drapery rod, which is normally a light gap. This is the best curtain rod for blackout curtains OR room darkening curtains, a rod that provides edge-to-edge coverage to reduce light, noise and drafts during the night. It is especially helpful for light sleepers or night shift workers.

Also Known as "French pole", the French used it as a way to highlight the fabric, especially in window dressings with tapestries. In their presentations the French preferred to focus on the fabric's design or artwork. Shop French Return Rod For Blackout Curtains ->

Traverse Rods

Unlike other curtain rods, this one has clips to attach to your curtains, and the clips help you move them open and closed. The Traverse Curtain Rod is suitable For wide windows, sliding glass doors, or room divider curtains.

Tension Rods

Consider a tension rod if you don't want to install a curtain rod. Spring-loaded, they can be easily mounted to your window's frame or trim. Besides being fitted tightly using tension to keep them in place, they also need to be sized appropriately for your window and adjusted to match that width. Tension rods are only effective on windows on short walls.
Step 6: Choose your style

What curtain rods are trending? Whether you are looking for farmhouse curtain rods, french door curtain rods or ceiling mount curtain rods, SignatureThings has the solution for you!

Window treatments could be incomplete without curtain rods. You can choose to make them stylish too. There are so many aesthetic options available when it comes to finials and finishes. Take a look for Window Treatment Hardware and Accessories Ideas - The Backbone of Every Home Décor

If you're building a glam room, choose the brass curtain rod with a polished look, whereas the black curtain rod is the perfect option for farmhouse or mid-century modern decor. Additionally, silver or gray curtain rods provide a more subtle look, and are suitable for Scandinavian style homes and kids' rooms. As we'll discuss in more detail below, curtain rod accessories are also important.

What are finials?

Finials are the decorative ends of curtain rods. Curtain rods with decorative brass finials add a refined look to this hardware while keeping the curtains attached. Several curtain rods come with finials, while others can be paired with other finials. Shop our curtain rod finials ->

What are curtain rings?

A curtain ring is a small clip that holds a curtain in place. They are used to hang all types of curtains, including shower curtains. The curtain rings make your curtains easier to open and close, as well as make the curtains look stunning. Shop curtain rings >

What are Curtain Tiebacks?

A curtain rod hook or tie back is another alternative to consider, even if they are not technically part of your rod. In an attractive swoop, they hold back your curtain, letting more light in. Shop curtain tiebacks->