Products tagged with 'polished stainless steel'
1
Add a modern and trendy look to your kitchen cabinets & furniture with solid stainless steel square bar cabinet pull drawer handle. Easy to install. Fasteners included: M4 x 25mm.
European-crafted fine decorative cabinet hardware.
Note: Need Custom Powder Coating?
- Add Custom Powder coating to the product, required extra 200$ setup fees.
- For Custom Powder coating Product visit: https://signaturethings.com/custom-powder-coating
- For More Details call us at 480-463-1912
2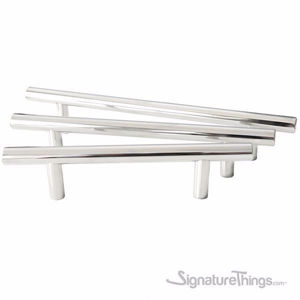 Solid stainless steel bar pull 12 MM, Use as refrigerator pull or kitchen cabinet door handle High-quality stainless steel give your home a fresh and more finished look.
Choose from a wide range of European-crafted fine decorative hardware that complements all styles of kitchens, bathrooms and furniture cabinetry.
Note: Need Custom Powder Coating?
- Add Custom Powder coating to the product, required extra 200$ setup fees.
- For Custom Powder coating Product visit: https://signaturethings.com/custom-powder-coating
- For More Details call us at 480-463-1912