Products tagged with 'oriental'
1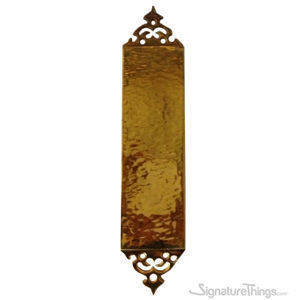 This stylish push plate can be customized to match your design. Get it in a plain finish or hammered-look finish.
2
Combined with the beauty of pristine craft with a unique and cultured artwork.Hand crafted in the USA in solid bronze.

Create a classic look in your kitchen or bathroom with this unique drawer pull. It is easy and quick way to add your personal touch to your change look and feel of an entire room and is crafted from a high-quality brass material for long lasting quality & durability.

Sizes :
51400 ORIENTAL PULL - ROUND SPLIT 4-1/2"

Made of high quality brass with multiple finishes, Sturdy and durable, practical for a long time. Our Decorative Cabinet Hardware can be used across the home to revitalize your kitchen or bathroom and can offer an update to any furniture piece.
3
This Oriental Push Plate features beautiful etched detail on the surface of the plate and plain at the edges and comes in several finishes. This ornately designed plate will add a unique touch to most styles.