Products tagged with 'lucite handle'
Add a touch of elegance to your cabinets or drawers with this Classic Barrel Ring Lucite Pulls with 3/4" diameter Lucite Rods. It features a traditional classic brass ring and clear design. The Brass piece is Approximately 2 - 1/4 inches high.

Our lucite hardware can help you wow your guests without breaking your budget. From soft to striking or simple to bold, our huge selection of lucite cabinet pulls, will give your home a fresh and more finished look.

Each piece is designed with aesthetics in mind and made with the highest quality products from high end Lucite and brass materials. Suitable for different styles of cabinets, use these Lucite acrylic hardware to decorate your cabinets or update some old furniture, bring you a modern look. Very stylish and unique
High end designer Lucite cabinet pulls. We can custom make these lucite pulls in any size, Center to Center or design (within reason). 3/4" Diameter Closed End Lucite handle or Open Ended Knob. This has a overall projection of 1.5" suitable for Cabinets, drawer or dresser.

This is a custom lucite hardware and we can replace Lucite with Brass, Wood, Crystal, Bone, or any other material that is 3/4" External diameter. call 480-463-1912 to discuss.

Each piece is designed with aesthetics in mind and made with the highest quality products from high end lucite and brass materials.

Suitable for different styles of cabinets, use these lucite acrylic hardware to decorate your cabinets or update some old furniture, bring you a modern look. Very stylish and unique.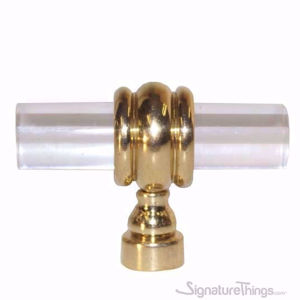 Add a touch of elegance to your cabinets or drawers with this retro style brass and 1/2" diameter lucite pulls. The Brass piece is Approximately 1 - 1/2 inches high.

High End Designed custom Lucite cabinet Handle. Made to order sleek and sturdy Lucite and solid brass. Fabulous fit for cabinets, drawers, and any furniture.

Our lucite hardware can help you wow your guests without breaking your budget. From soft to striking or simple to bold, our huge selection of lucite cabinet pulls, will give your home a fresh and more finished look.

Whether the look is Modern or Transitional,our store has the style and color to turn your room into the impressive( and affordable! ) show place you long for.