Products tagged with 'Classic'
These 2 inch brass letters will draw the attention of any eye. Their durability and strength makes them the perfect characters for any sign. Our premium grade, solid cut brass sign letters are highly durable and designed for interior and exterior use.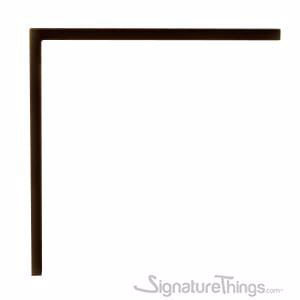 This is a Brass L Bracket made out of 1/2" rod. The bracket does not have a X Brace so should be used accordingly for lighter items. We can add custom X Brace if needed. Solid metal construction, ensuring quality and longevity,
Decorative shelf brackets add stylish flair to your display shelving; Perfect for displaying photos or collectibles. This 90 degree angle Brass shelf bracket is a wonderful way to bring this dynamic style into your own home!
Timeless design Clothes hooks high-quality copper made. with antique brass finish. Ideal for use in foyers, hallways, kitchen, bathroom, and bedrooms Designed to hold a wide variety of items: coats, hats, handbags, umbrellas, towels or robes