Products tagged with 'Art Deco'
1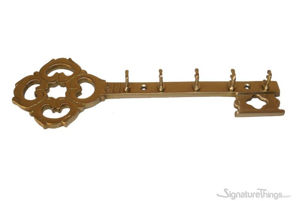 Hang your keys up in style and never lose them with this elegant key shaped holder. Beautiful brass key hanger organizes keys with 5 sturdy key hooks. It will add a nice touch to your decor, and last for years to come. This key hanger will make a great stocking stuffer, and gift for friends and family.
2
This floor bumper is small but robust enough to protect walls and doors from damage. The stylish design keeps up appearance with a concealed mounting screw.
3
This cabinet and door Brass Edge pulls feature a longer grip that makes it perfect for those hard to reach places. This impressive edge pulls made of solid brass and can be used for passage doors or sliding doors. This timeless antique drawer edge pulls are the perfect accent for traditional & modern style dresser cabinets or furniture and is crafted from a high-quality brass material for long lasting quality & durability.