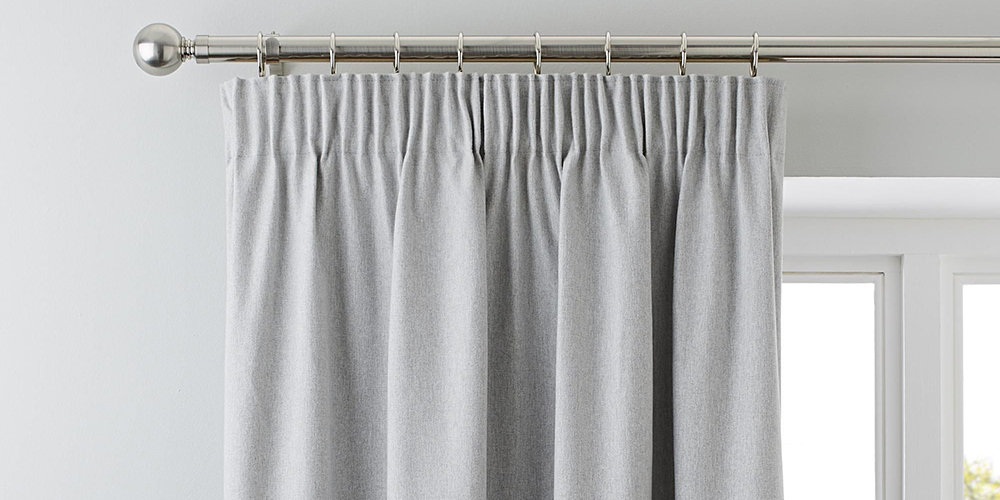 Curtain Accessories - The Backbone of Every Home Décor Requires More Attention Than You Think
Any house without curtains feels as if it is exposed, not quite literally. But curtains are a crucial part of the house and the décor. They give the touch of elegance while maintaining a sense of security and safety. Today, one could find never-ending options and designs in respect to the curtain category. Hanging curtain is not enough. You need to have so many other stuff with it too. With curtain, there will be a rod, pole, ring and the list goes on. You need to deliberately make sure of much elements even the tiny ones before installing one in your house. But when fitted and hanged it will look fantastic. One needs to also make sure it goes well with the aesthetics and colour scheme regarding the overall decor. So let's dive in with the Curtain accessories you need to have ASAP!
The Curtain Rod

Curtain Rod is one of the most important and essential accessory required. One needs a sturdy rod which works for years and years. A low-quality one can not only bring damage but give a very cheap view to the house. The curtain rod accessory comes in many varieties. These are adept over window and then curtains are hanged. There are several designs in this steel curtain rod. Some are having a round end while one is in sharp cut. Try this one to get a catchy look. Classic Brass Tubing - 040 - 6 Ft Length. They can be used for lighting, curtain rods, closet rods, shower curtain rods, rods for wall hanging, and many other uses, you name it.

The End caps

Something as minute as an end cap can also make a huge transformation. One needs to decide the finish of the cap which would go with the curtain rods and other accessories flawlessly. They need to be heavy and strong to hold up the curtains at a place for months and years without any loopholes. You can find these for the material of the rod you are using like Wood, Lucite, Metal, etc. Curtain Rod End Caps provide a high-end design and bring a stylish look to your window treatments. Also, the Drapery Rods Finials easily screw onto the ends of your Curtain Rods.

Similarly, some end caps are designed to coordinate with the Classic Complete line of Drapery Hardware (Sold Separately). These premium Curtain Rod Accessories lend an elegant accompaniment to your window décor.

The Curtain Rings

What does a basic curtain ring do? If you may ask let me tell you. These rings are hanged on curtain pole accessory. It is circular with an arrow with half-moon. A curtain is to be dazzled on this hook. The Curtain Rings with Eyelet are 3/16" thick solid brass rings, not hollow. They are 100% brass and can be finished in any of our custom finishes. So after having the general idea of the product one can decide the finish you want to opt for. These will help the curtains to remain in a place and can be adjusted according to your needs. The Decorative Iron Curtain Rings / Shower Curtain Rings provide the perfect amount of space to ensure smooth gliding when opening and closing attached curtains. Also, perfect for a bedroom, living room, dining room, office, or kitchen. Sleek and sophisticated clip rings give window treatments an elegant appearance. Our personal favourite is the Brass Curtain Rings With Eyelet simple yet elegant.

The Finials

Another essential to make a note of is the Finials. Finials are an element marking signifying the top or end of some object, often formed shaped to be an adorning feature. Smaller finials in metal or wood are used as a decorative feature ornament on the tops or ends of poles or rods such as tent-poles or curtain rods or any object such as a piece of furniture. A contemporary style and a dark finish curtain rod that stunningly complements anything that hangs from it, you'll achieve a casual yet timeless look that effectively embellishes your home. These beautiful Brass Curtain Rod Finials Cannon Ball Finial easily screw onto the ends of your curtain rod to add a refined finishing touch to your window treatments.

Curtain Brackets

To install a curtain rod over your window, you'll need a pair of brackets to keep it in place. Brackets are an easy way to keep your curtain rods securely mounted to your wall. This is where sturdiness meets elegance. One could find heavy-duty brackets that go perfect with the look of your decor and curtain design. All you have to do is to simply mount them to the wall and slide the rod securely through the brackets.