Products tagged with 'womens bags'
1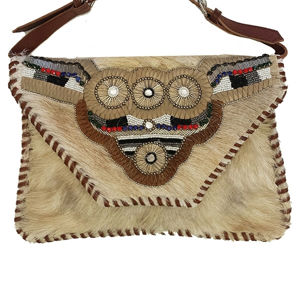 100% Hair on leather clutch . With a creative representation of the bull head in a geometric pattern .
Crafted with multi color beads and leather embroidery. Whip stich edge to the bag in brown leather to match the leather handle.
Magnetic closer with a brass zip pocket inside. A truly refined western look.
2
A rich velvet hobo bag, in olive color with abstract appliqué work in woven textured fabric. Leather handle, attached with rings. Three pockets in side. One with a zip closer. A perfect pair with semiformal jackets and dresses.
3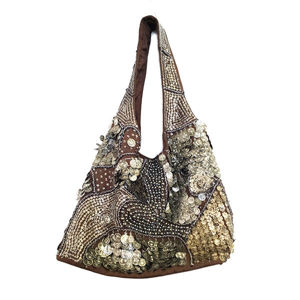 100% Cotton canvas hobo with metal art .
Geometric patterns with metal embellishments of different shapes and size stitched together to create a unique abstract flow .
Metal closer with a string dog hook closure too. YKK brass zip pocket inside.
An all season unique hand crafted hobo which defines a rare look.