Products tagged with 'Drapery hardware'
1

Shower Curtain Rings made from 100% Brass to ensure that they never rust. Set of 12 rings. It is made of brass and can be bought in multiple finishes. Wipe clean with a dry cloth.
2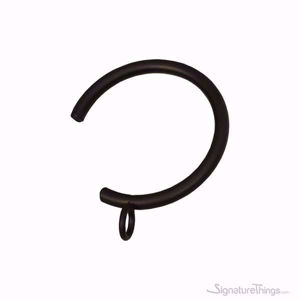 C Shaped Iron Curtain Ring With Eyelet. Available for special applications with 1" and 1-5/8" rods and Bypass brackets only. Recommended for large curved rods or excessive spans. Price is per ring.
View More Options for Iron Finishes
3
This custom brass tubing will add a touch of class to any room in your home or office. Use it for lighting, curtain rods, closet rods, shower curtain rods, rods for wall hanging, and many other uses. The wall thickness is 0.040 inches. For 6 feet or larger spans it is recommended to insert a wooden dowel inside the tube to make it sturdy, and/or also use a center bracket. This product is also available in thickness of 0.062 and 0.125 inches, see related products.