Products tagged with 'crossbody handbags'
1
A rich velvet hobo bag, in Burgundy color with abstract appliqué work in woven textured fabric.
Leather handle, attached with rings. Three pockets in side. One with a zip closer.
A perfect pair with semiformal jackets and dresses
2
A rich velvet hobo bag, in olive color with abstract appliqué work in woven textured fabric. Leather handle, attached with rings. Three pockets in side. One with a zip closer. A perfect pair with semiformal jackets and dresses.
3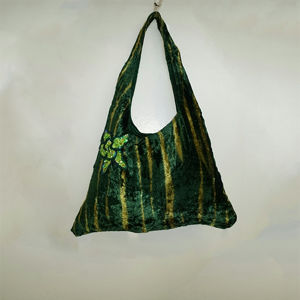 Deep green velvet hobo, with stripes and a sequence flower embellishment which is removable.
Can be used as a broach.