Products tagged with 'Crossbody bag'
1
100% woven fabric tote shoulder bag can be used as cross body too.
A combination of orange and blue Aztec pattern , embellished with bead and thread work. Both ends have ribbon tassel in pink and yellow. Zip closer.
Handel has a removable tassel made in pink and yellow ribbon 7" in length. A large functional bag with a great Aztec look.
2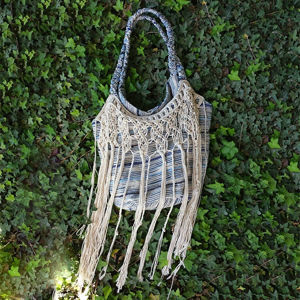 A multi purpose large shoulder satchel. Made in blue and white strip woven fabric.
Macramé style long loose fringe on one side of the bag.
Beige cotton lining inside with two pockets. 1 with a zip closure.
Bag has a magnetic snap closure and dog hook.
3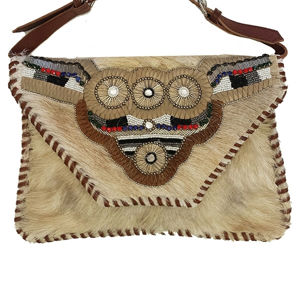 100% Hair on leather clutch . With a creative representation of the bull head in a geometric pattern .
Crafted with multi color beads and leather embroidery. Whip stich edge to the bag in brown leather to match the leather handle.
Magnetic closer with a brass zip pocket inside. A truly refined western look.