Products tagged with 'bath towel holder'
1
Make a statement to your bathroom with modern looking reverse toilet paper holder. Made of stainless steel brushed finished. Awesome in our modern bathroom. build to resist daily scratches, corrosions, and tarnishing. ensuring quality and longevity.

Paper Towel Holders to Store and dispense standard and jumbo paper towel rolls. Mount to wall, Also, Under cabinets, inside cabinets and doors to save counter top space.


2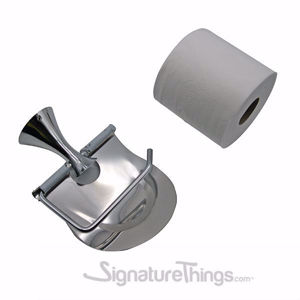 Stainless Steel Cover Toilet Paper Holder Towel Paper Roll Holder Zinc Alloy Wall Mounted Seat

Toilet Tissue Paper Roll Holder has room to store and dispense one roll of toilet paper; Holds even jumbo-sized rolls of toilet tissue; Maximize unused wall space

COMPACT DESIGN: Space-saving design fits perfectly into small bathrooms, guest bathrooms and powder rooms; Free up space on back of toilet tanks or shelves and make the most of extra wall space; Ideal for homes, apartments, condos, RVs, campers, boats and cabins
3
Stainless Steel Shower Bar combines quality, strength, and durability with a classic design to bring safety and stability to your bathroom without sacrificing style. bright stainless features a smooth surface for a simple clean look.
Note:
Need Custom Powder Coating?
- Add Custom Powder coating to the product, required extra 200$ setup fees.
- For Custom Powder coating Product visit: https://signaturethings.com/custom-powder-coating
- For More Details call us at 480-463-1912