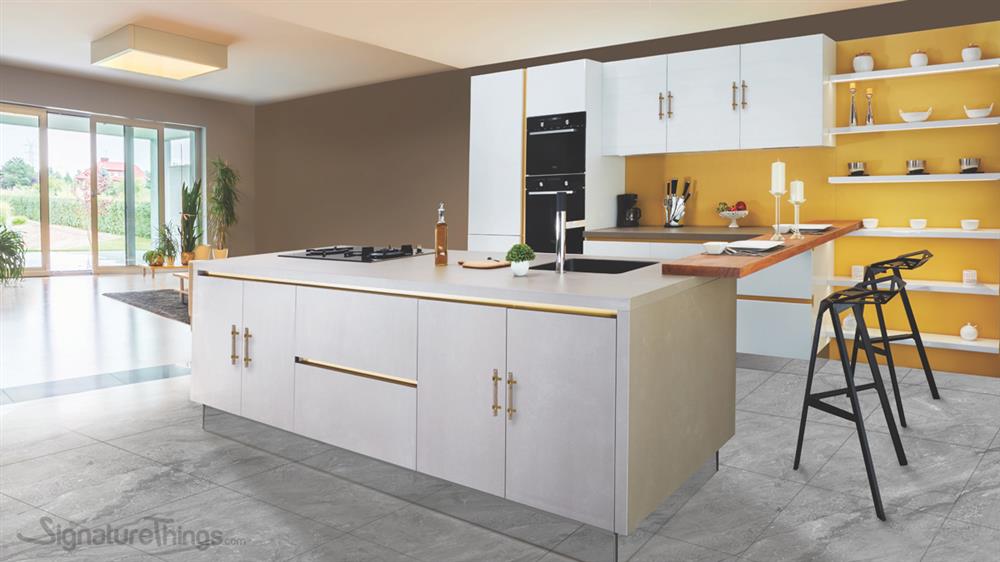 White color has the essence to enlarge the feel of a room. It adds freshness & glow to any space. Light-colored kitchen cabinets are well known for their versatility. They blend easily into the background while giving a subtle character to a room. While the color of the cabinet is essential, accessorizing them aesthetically is also the most important part. Often overlooked, hardware accessories can easily change the style of your space and are capable of adding an extreme 'wow' factor. Below are some of the plenty of ways to make plain white into awesome.
Kitchen Hardware to Accessories the Cabinets & Drawers
1. Adorning Long Brass Pulls
White cabinets adorned with long brass pulls never fail to get attention. They are durable and you shall love the way this sleek hardware adds a touch of cordiality. Clear Square Swarovski Pulls, Crystal Appliance Pull Back-To-Back, Adjustable Wire Pulls are some of the options that can be used with light cabinet finishes.
2. Stunning Crystal or Glass Hardware
Crystal or glass hardware is as luxe as it is timeless. You can go vintage with crystal cabinet hardware, or add a pop of glamor that will sparkle from across a room.
3. Minimalist Knobs with Finishes
The knobs, albeit their small size, have a big impact on the overall look and feel of the kitchen. Acrylic Cabinet Knobs, Elegant Cabinet Knobs in Chrome, Laminate Square Cabinet Knobs and Decorative Two Tone Cabinet Knobscan be perfect for minimalist kitchens.
4. Purposeful Hinges
Hinges appear more functional rather than adding look, but that doesn't mean they should be neglected. Ensure the same attention to the Hinges so that they don't turn into a messy afterthought. Depending on your cabinet types, you may opt for classic Flang, H-style, gate hinges or semi-concealed ones. There are a number of types to match your taste.
Most Loved Hardware Pieces for White Kitchen
1. Barrel Ring Lucite Pulls
Soft to striking or simple to bold, our huge selection of Lucite cabinet pulls, will give your home a fresh and more finished look.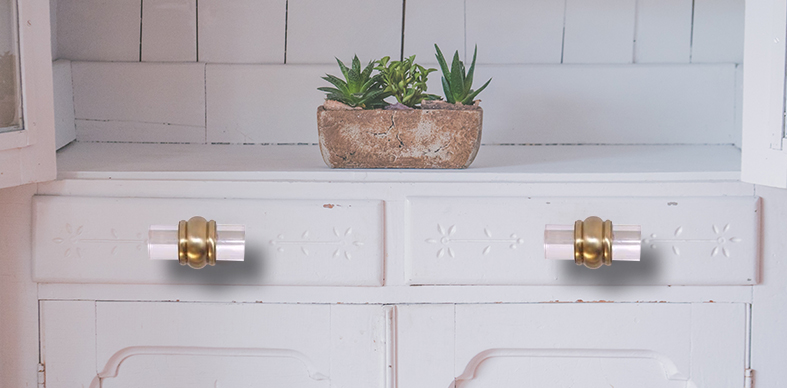 2. Door Ring Lucite Handle
Clear acrylic Door ring Lucite Handles can ornament your kitchen cabinet drawers like none other. They complement well with the rest of your décor. Each Lucite pull is available in different polished chrome bases.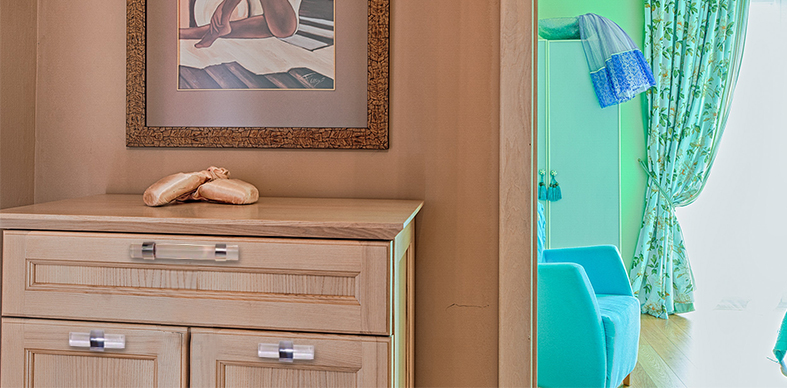 3. Traditional Plain Ring Lucite Drawer Pulls
This is enduring quality hardware available in custom Lucite sizes and Brass finishes.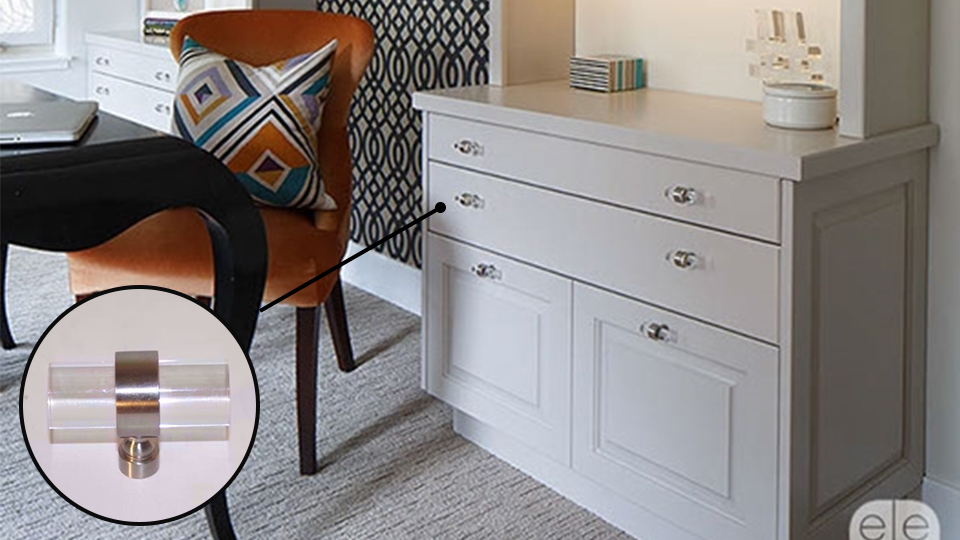 4. Plain Ring Cylindrical Post Lucite Pulls
This retro style brass Lucite pulls are sleek and sturdy. They can be a marvelous fit for cabinets or drawers.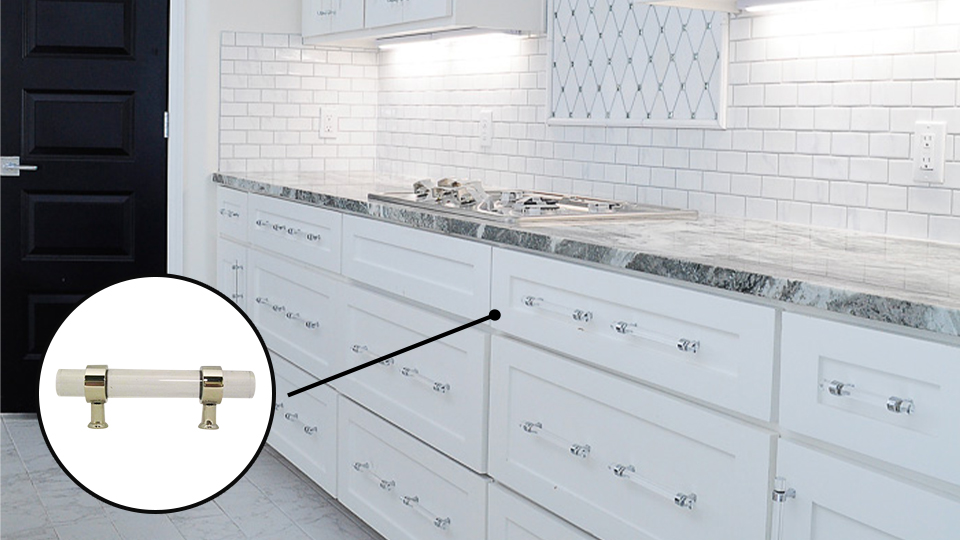 5. Cup Handle with Lable
Cup Handle with Lable adds a delicate touch to your cabinets of kitchen or bath. They are lightweight, thin but sturdy; and great for cabinet ornamentation.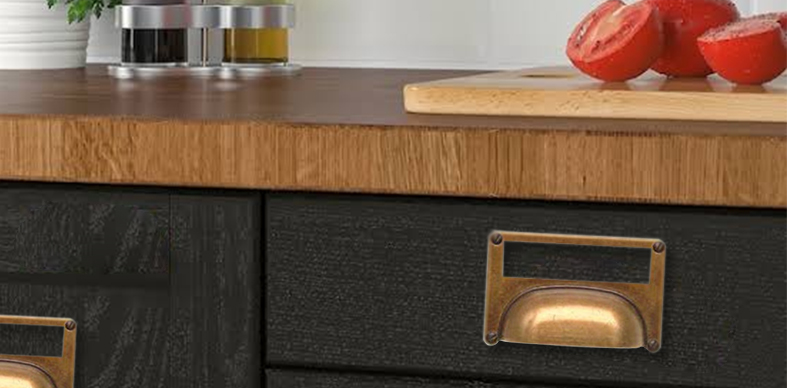 6. Cabinet Flush Handle
Cabinet flush handle has been a timeless choice for imparting a smooth appearance, soft and comfortable touch to any cabinet.
7. Antique Drawer Pulls
Elevate your furniture piece with this drop pull that is more than ordinary! Antique appearance looks perfectly on traditional and period pieces.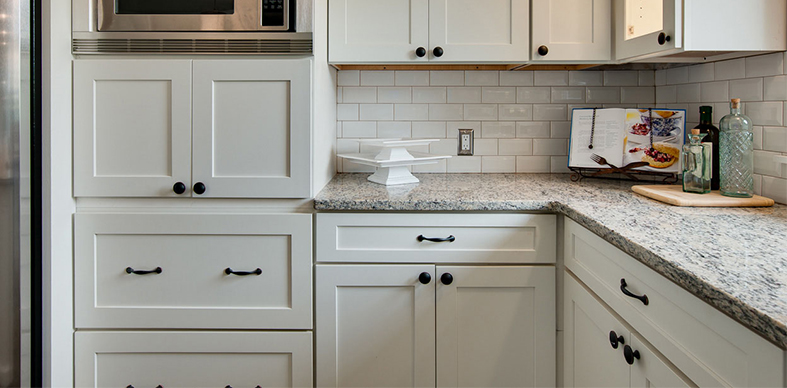 Hardware Colors for Light Coloured Cabinets
1. Beautiful Brass
Inject a touch of warmth with Brass door Knobs into your modern white kitchens cabinets. While white dominates the modern kitchen, these striking pieces shall add a character to your kitchen.
2. Bold Black
Freeze eyeballs by making a bold statement with black hardware against light cabinets. Black hardware works particularly well if you have some black accents around. Plus, by its nature, black matches and bolsters nearly any color in its vicinity.
3. Rich Browns
Brown hardware can range from the deepest, darkest taupes to nutty chestnuts to rich, red-hued umbers. Your white cabinets shall adorn them graciously accentuating your home personality.
4. Sophisticated Gold
There is hardly any other cabinet hardware color that matches the sophistication of gold. These amber and honey hues add warmth and instantly enliven the entire room. You can find translucent varieties of gold as well. Translucent kitchen hardware reflects sunlight and brighten a space entirely on their own.
5. Supplementary Hues
Venetian bronze is one of the best pairings across the board for light cabinet colors. Polished Chrome, Nickel Chrome, Satin Brass, Oil-Rubbed Venetian Bronze, all pair well with light hardware.
Custom-Designed Hardware
You can even custom design your own hardware accessory for adding a more personal touch. Creative solutions like glass or crystal custom designed as per your home needs can add flair to an otherwise staid space. Don't be afraid to experiment with different styles as one of the great things about cabinet accessories is that they're easily swapped in and out.