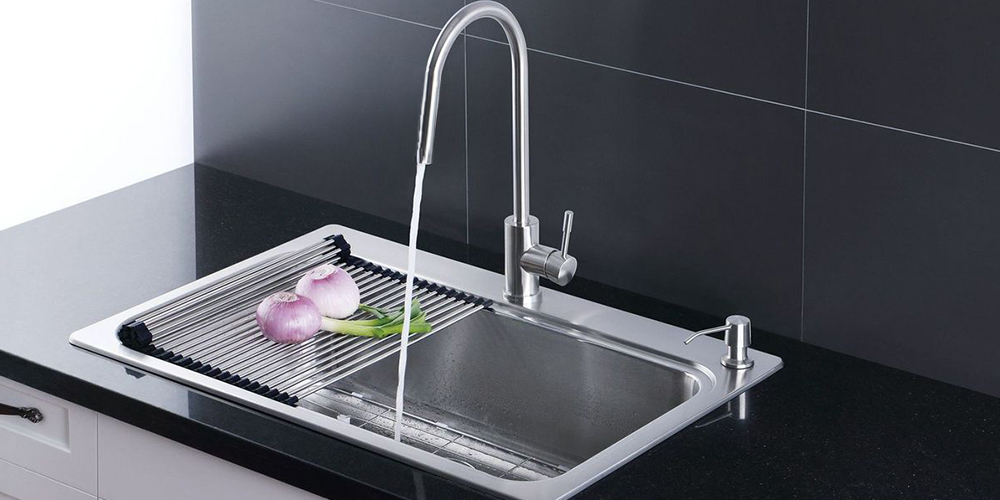 Let's talk about the heart of your Kitchen; Ultimate guide to buying the perfect Kitchen Sink
How we maintain our kitchen tells a lot about ourselves. The heart of every home is the kitchen, and the sink is a vital piece of it. We need the sink to do various things like washing dishes to prepping food, bathing the puppy – it's one of the most utilized features of every home. While designing your dream home, one needs to make sure various criterion even regarding the sink. How it should match the aesthetics of your house or how big it should be and etc. So, here we are to answers all your question ad queries and present you to the ultimate Kitchen sink buying guide. Like always we got you covered. There's the perfect sink out there for your space, and this guide will help you find it.
1. Size Matters

There is a bunch of size choices for your new kitchen sink, which can be created as little as 9" in length or exceed 40" for larger spaces. To finalize a size first you need to know the purpose of the sink and how it will be used. For example, if you're looking for a sink to install into your kitchen island to help with food preparation, you likely only need a small prep sink which will be 24" long or smaller. Kitchen sinks that are larger than 36" in length are deemed oversized sinks. These fit very well into large kitchens, where a small or standard size kitchen sink may get lost in the design. Once the size of the sink is sorted next you should pay close attention to the depth of the basins as well as the width from front to back.

2. The Faucet

Following the topic of matching the sink with your house aesthetics, how can we forget the faucet, which would eventually complete the overall look? A minimalist faucet, complete with a round faucet, is a great fit for any smaller space. Contemporary design is perfect when you are planning to add a modern touch and bring a spa-like luxury to your space. Whether your kitchen aesthetic calls for chrome, nickel or brass, they are never-ending options and designs. Though our favourite is the absolute beauty' Sink Brass Faucet with Goose-Neck Spout'. It ticks all the columns of the checklist and meets at the end where beauty comes with functionality.

3. The Style

After you have determined a size for your new kitchen sink and of course the faucet, it's time to explore the style options that are available that will go hand in hand with your prior two decisions. There are various options to choose from to begin with. Either you could opt Farmhouse sink which is designed to have large, deep bowls to hold ample amount of water or you could go with Drop-In design which basically is a great option for those who are looking for something easy to install and remove (if ever necessary), and can be used with any countertop material. Undermount on the other hand are mounted to the underside of the countertop, fastened using clips or brackets and adhesive. There are more options to the menu but it requires a proper understanding of the requirements and extensive research.

4. What Material?

Consider the ways you use your sink and what it needs to withstand to work with your home. It needs to answer questions like, Will the material you choose require special attention? Is it easy to clean? Will it resist scratches from scouring pads or abrasive cleaners? The options are:

CAST IRON:

Known for their durability, cast iron sinks contain a porcelain enamel coating which also make them very low maintenance and a breeze to clean.

FIRECLAY:

These sinks are resistant to rust, discoloration, and fading. The smooth, glossy finish makes them easy to clean and maintain.

STAINLESS STEEL:

Arguably the most popular kitchen sink material, stainless steel sinks are constructed of 14, 16, or 18 gauge, 304-grade stainless steel. They typically feature a coating of sound-deadening material on their underside, and they're resistant to chipping and cracking.

COPPER:

A substantial copper sink is made with 99.9% pure copper, which make them generally antimicrobial to kill harmful bacteria. Since copper contains a living finish, some extra supervision is recommended to keep it looking new such as monthly waxing, and washing with a cleaner formulated specifically for copper to prevent corrosion and discolouration.

NATURAL STONE:

Natural stone sinks are made of various types of marble, granite, or travertine, which come in a wide variety of unique colors. Since they are carved from a natural piece of stone, no two sinks are identical, so you'll never have to worry about having the same sink as your neighbour.